This post has been compensated by Collective Bias, Inc. and AcneFree. All opinions are mine alone. #AcneFreeSummer #AcneFreeLife #CollectiveBias
I know it's already half way through August but I refuse to believe that summer is going any where soon! I'm definitely ready for apple pies and cozy fuzzy socks but I'm not quite ready to say good-bye to sunny days and beach weather. I'm definitely not ready for August to be over because that means I will have started graduate school! I'm nervous but very excited to get my M.B.A. going – Basics of Financial Management, here I come. I'm trying to get my life in order before it goes crazy again with school and work next month, and that includes getting my skincare sorted. Because I've started breaking out a bit with the stress of getting everything ready this month, my skin has called for a new routine!
How I Freshen Up My Skin for Summer
The focus of my new routine is efficiency, availability and of course, budget-friendly. I decided on the AcneFree line, which I picked up from Amazon – talk about availability of getting it delivered to my door in just two days! Here's how I designed my routine to fit my daily routine:
In the morning I start with cleansing. This is essential to creating a clean foundation for makeup and means it will be one less thing I have to worry about this fall. I use the AcneFree Advanced Cleansing Duo: this includes he AcneFree Oil-Free Purifying Cleanser and AcneFree Purifying Facial Cleansing Brush, which helps clear blackheads and acne breakouts and gently deep clean pores. I really like this duo because having a kit makes treating my acne-prone skin much, much easier.
I follow the instructions to a "t": I section off my face and use the brush for no more than 60 seconds, clean the brush head and pat dry.
And then the second half of my routine is at night, right before I go to bed. I do this step after brushing my teeth, and I even keep this in my nightstand so I have no excuse! I use the AcneFree Daily Skin Therapy Complexion Perfecting Cream to renew and rejuvenate my skin. This continuously releases retinol through the night so I wake up fresher and hopefully a little less stressed!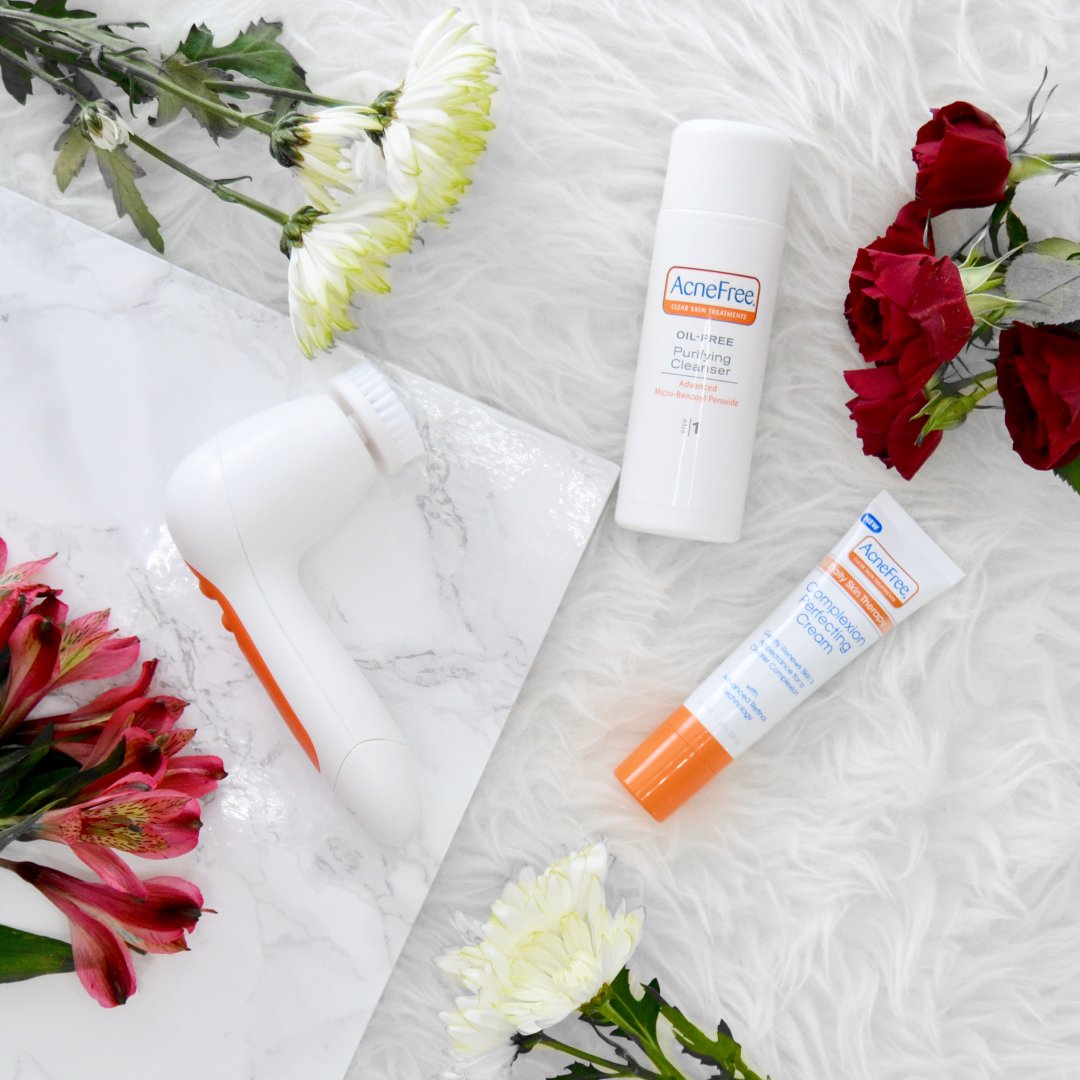 And because I'm so excited to share this new skincare routine, I have something else to share! AcneFree is launching a 4-week sweepstakes on August 14th, 2017. 3 Grand Prize Winners will win $1,000 spending money and AcneFree Supplies for a year. Additionally, AcneFree will give away 10 AcneFree® 24 Hour Acne Clearing Systems every week for 4 weeks. No Purchase Necessary. To enter, simply enter your name and email address at http://cbi.as/9rasp Use the form to follow on Instagram and Facebook to earn extra entries. For more information full rules, log on to http://cbi.as/9rasp.
I'd love to know, what are some of your fall or back to school tips? Don't forget to pick up an
AcneFree
product or two, I'm amazed at how much it can freshen up my skin!